Rogvolod with daughter Rogneda
Every modern political figure has its historical "twin". As a historical novelist, I love drawing parallels between present day political figures and their doppelgangers of the past. Today's guest of honor is Prince Rogvolod of Polotsk
(circa
920-978)
, who bears some similarities to Donald Trump.
Rogvolod (aka Rögnvaldr), a son of a
noble Swedish couple, was the first documented ruler of Polotsk (modern day Belarus), a city situated on both banks of the Dvina river. Not much known about his childhood, other than he was born around 920. Several chronicles suggest that he seized the land and had a fairly firm grip on it.
Images of Krivich people reconstructed from the skulls
Before his arrival, the city was in it embryonic form, consisting of scattered settlements. His arrival made quite an impression on the indigenous Krivich population. (The etymology of the tribal name is up for debate. Some historians claim that it stems from the word "crooked/twisted", hinting to some birth defect, while others suggest that it stems from the word "blood".) Most of the Krivich people were artisans: blacksmiths, iron workers. Women had the same rights as men and were expected to excel in the same trades. They possessed all the skills necessary for building a city, and now they had a leader to mobilize them. Rogvolod invested heavily into urban development. He recognized the opportunities for trade and industry that the riverfront location offered. Thanks to Rogvolod, Polotsk was placed on the map as an actual center for trade.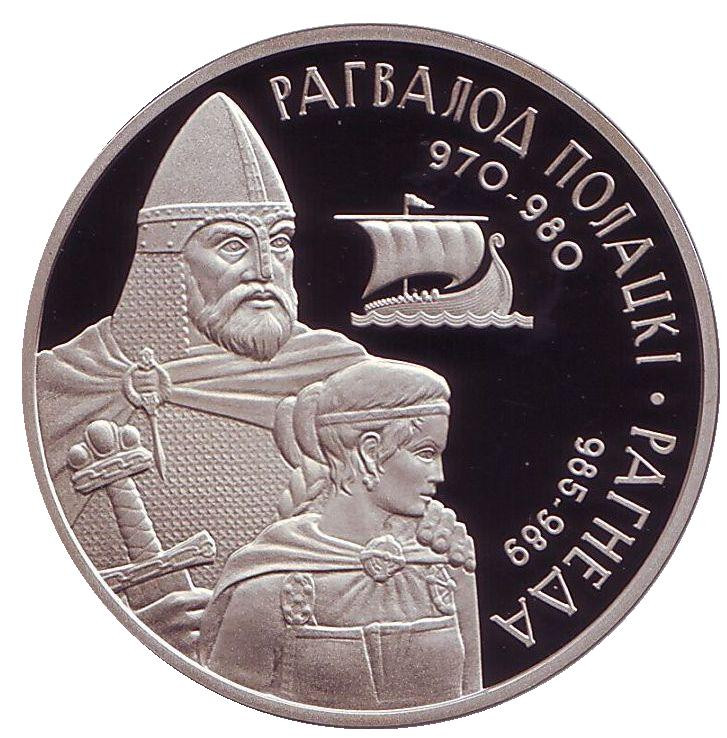 A coin depicting Rogvolod and Rogneda
Just like Donald Trump, Rogvolod was obsessed with building towers and walls. He had an elaborate system of labyrinths in his city. He used high quality wood for the key edifices. The name of his wife is unknown, but she did not play the key figure in his family life. The centerpiece of his nuclear family was his beautiful and arrogant daughter Rogneda. He also had two young sons, but their names and ages were not recorded. Understandably, Rogvolod was not the world's humblest man. His daughter inherited his personality traits. Rogneda knew that her purpose in life was to help her father form an advantageous alliance. She also had considerable latitude when it came to choosing her spouse. Rogvolod loved his daughter and wanted her to be happy, so he gave her a lot of say when it came to reviewing various candidates.
Rogvolod consulting Rogneda
Rogneda was particularly keen on one candidate: Prince Yaropolk of Kiev. Apparently, he was up to her standard. Alas, that union was not to materialize, as Yaropolk fell victim to a court intrigue and was assassinated. His younger illegitimate half-brother Vladimir, born to a servant girl from the Drevlian tribe, decided to try his luck. Rogneda rejected him on the grounds of him being illegitimate. "I shall not marry a bastard born to a servant girl!" Vladimir was infuriated by the rejection, but not nearly as infuriated as his maternal uncle, General Dobrynius, the older brother of the said servant girl. Dobrynius urged Vladimir to make Rogneda pay for her arrogance. In 980 Vladimir assembled an army consisting of Slavs, Varangians and even a few Asiatic tribes and stormed the city of Polotsk. After taking the city, he raped Rogneda in front of her whole family and then murdered her parents and younger brothers. The city was destroyed, and Rogneda was forced to marry Vladimir. There is a record of her lamenting, "I am deeply saddened. My father is dead, and his city overtaken by the invaders. All because of me, because of my pride." She blamed herself for the tragedy that befell her family.
At the very top of the post is a very eloquent depiction of Rogvolod and his daughter by a contemporary illustrator. An average viewer will be appalled by the fact that Rogneda is portrayed as much smaller in size and sitting at her father's feet, like a little dog. Well, we have to look deeper, beyond modern day stereotypes.

Ancient Slavs and Scandinavians did not regard feet as dirty. Feet represented freedom, mobility and accomplishment. Rulers wore ornate boots to draw attention to their feet. Very often, it was the most ornate and costly part of their apparel. There is also a memorial coin depicting Rogvolod in his armor with his hand on his daughter's shoulder.